The ADA Group, founded by Anne Dean, is a Consulting Firm Specializing in Ambulatory Surgical Development and Regulatory Compliance for ASC State Licensure, Medicare Certification and ASC Accreditation.


Providing Only the Best Solutions—From the conception of the idea through financial feasibility to the administration of hundreds of particles that must be managed during the construction process and on to State Licensure, Medicare Certification and Joint Commission and AAAHC Accreditation—we put your Center first.

The ADA Group has the experience. Since 1985, Anne Dean and the The ADA Group consultants have worked on more than 650 ambulatory surgical development projects and regulatory compliance contract services which has provided us with countless problem-resolving opportunities and success stories in ambulatory care.

Development: Although our development work typically begins at the design phase of a project, at any point in the ongoing development of an ASC, having us bring our unique programs and systems to the table would provide the highest level of achievement and success to any project. Do you have development questions? See commonly asked questions and our answers here.

Why Hire The ADA Group

Printable Brochure

Regulatory Compliance: The ADA Group utilizes our web site to communicate and provide updates to programs, policies and forms to those who subscribe. Want to see more? Download our sneak peak word document containing screen captures of access-only pages here: Sneak Peak


ADA HOMEPAGE NOTICES

Notes From Anne's Desk last update November 15, 2013


---
Fall Newsletter Now Online!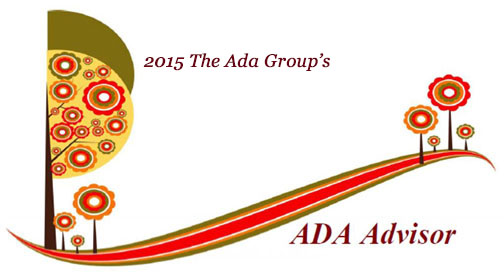 Welcome New Client:
South Texas ASC


San Antonio, TX 78240

Specialty: Dermatologic Cosmetic Surgery


Jolene Wilson, LVN, AD/QAPI Coordinator




Kansal Eye Physicians
Salina, Kansas
Development - Center Name to be announced
Som Kansal, AD
Congratulations To:
Premier Surgical Center
Boise, Idaho
Brandi Black, RN ORS & Cindy Clancy, AD
Joint Commission

Gulfshore Endoscopy
Naples, Florida
Gladys Brunet, AD
Kathy Magher, RN, Endo Director
Joint Commission

Broward Specialty Surgical Center

Hollywood, FL.

Wayne Jones, AD

Marilyn Hawthorne, RN, ORS

AAAHC

Holiday Surgery Center

Holiday, Florida

Missy Reis, RN, ORS

AAAHC

Seven Springs Surgery Center
Newport Richey, Florida
Kim Barstow, RN, ORS
Medicare, Risk Management, Licensure



Medical Development Corporation

Hudson, Florida

Donna Poppo, RN

Medication Safety Certification-AORN


Chardon Surgery Center

Chardon, Ohio

Suzanne Meshkat-Dyke, RN, AD

Joint Commission

North Pinellas Surgery Center

Dunedin, FL

Debbie Weigle, AD

AAAHC
---

Congratulations Anne!
Anne Frey Dean, RN, BSN, LRM
is one of the
201 Women Leaders to Know in the ASC Industry
---
LATEST FREQUENTLY ASKED QUESTIONS (FAQs)
What standards should my infection prevention program be resourcing?
---
Do we still have to remove nail polish if scrubbing in the OR?
---
Do I have to remove my gown before leaving the OR? How about before leaving the decontam/soiled instrument processing area?
---
There is a lot of controversy in our organization regarding the removal of jewelry prior to handwashing. Our staff says this only applies if they are scrubbing in for a case. Help!
---
We are a busy eye center. As such, we are drawing up all syringes for any blocks the morning of surgery and labeling them for the name of the drug, dosage, date and the initials of the person who drew it up. Is this acceptable?
View Anne's Answers and more FAQs
here
---

Attention Inservice Coordinators:
Quality Assessment/Performance Improvement in an ASC Setting, New 12/12
Patients' Bill of Rights, New 12/12
Ergonomics at Work, Rev. 12/12
Disruptive Behavior in the Workplace, Rev. 12/12

(See dozens more on the Inservices page)


---
Attention Risk Managers:
Electronic Incident Reporting Now Avaiable

Contact Stephanie for instructions
regarding emailing those reports to the ADA Risk Managers


---



Here are our recommended downloads (pdf) files regarding CMS surveys:

Agency for Health Care Administration ASPEN: Regulation Set (RS)

ASC Quality Collaboration Implementation Guide

State Operations Manual Appendix L - Guidance for Surveyors: Ambulatory Surgical Centers
Rev. 12/22/11

Excerpt from State Operations Manual, Appendix L - 416.42 (b) Standard: Administration of Anesthesia
(word document)

CMS 11-10 Infection Control Surveyor Worksheet

Also:
Review Anne's Medicare Survey - Self Assessment Tool...and many new and revised forms - on the forms page

See the tool created for putting together a book of displays according to CMS regulations - forms page

---
---
Here is a link you may find useful for Verifying Education...




(http://www.studentclearinghouse.org)

Also, these links for Infection Control Training for your IC Coordinator:




(http://www.apic.org)




(http://www.cbic.org)

For many more outside links, see our Resource Links